If you press "back" during the installation and then "next" again, then the checkmarks will be installed in the opposite direction.
Hello!
If you press "back" during the installation and then "next" again, then the checkmarks will be installed in the opposite direction.
Add a check, the current status of the checkmark. To check off, if the user clicks "back" and then "next".
Good luck!

The problem was fixed in Unchecky v1.0.3.

License Unchecky under a free and open source license.
I'd love to see this software licensed under some free license like GPL v3, having anyone be able to look at the source code, modify and share it as they wish would definitely increase this project's credibility.

Flashplayer Adobe checkmark to install MacAfee on the download page is not removed
(Flashplayer Adobe галочка на установку MacAfee на странице загрузки не снимается)

Since version 0.4, Unchecky unchecks the checkbox of the Adobe offer in IE, Chrome, and Firefox.
Unchecky messing with Adguard extensions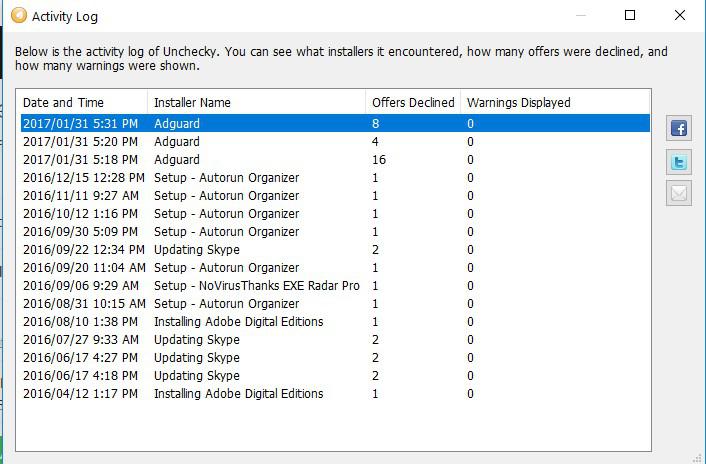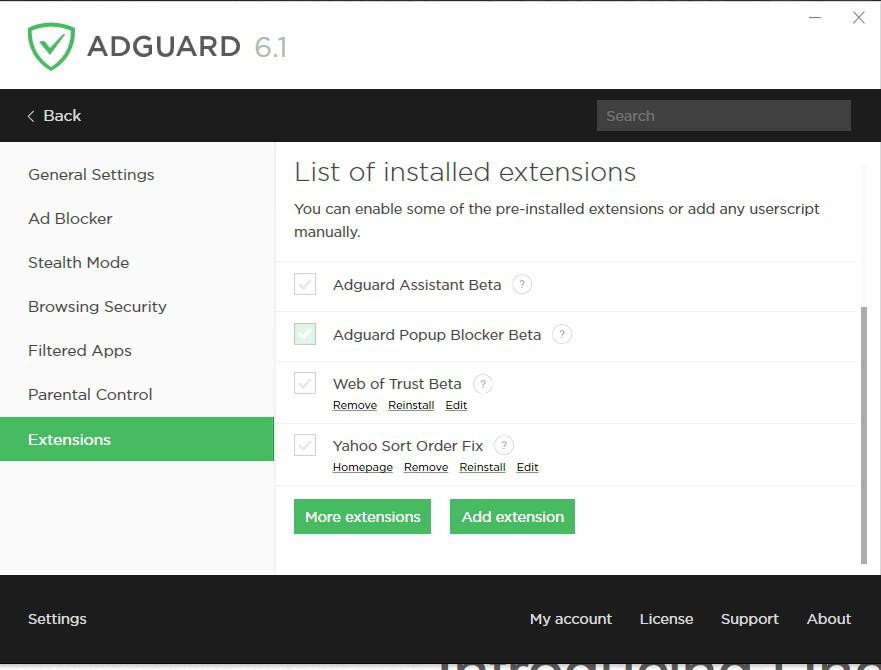 Hi - it seems that Unchecky is suddenly unticking my Adguard extensions. See attachments.
Is there a way to prevent this?


The issue was fixed in Unchecky v1.0.3.

Switch for no notification icon (tray icon)
Please allow the setting "Don't display the notification area icon" to be turned on via switch during install.


Many thanks!

(FP) Firefox/Pale Moon
Yes hi, I'm new to these forums and I love Unchecky! But anyways I'm hear to report some false positives with Firefox and Pale Moon (FF variant), Unchecky seems to think they deliver bundleware/pup's so I get the warning sign and then I have to use the custom install instead of the recommended/regular install, which gets quite annoying. And that's not true considering their open source, have legally signed SSL certificates and is verified, their websites are transmitted through a secure HTTPS/SSL tunnel, they've been scanned for maleware/viruses by over 20 security suites and are 100% free.

Should be fixed in v0.3.7.5
.

Support for Comodo Free Antivirus
Free version of their AV wants to set your home page to Yahoo (all browser) and install "PrivDog" (which might not be that bad) but, unless you opt for a "custom installation", it will install their "GeekBuddy", their Dragon Web Browser as well.

Поддержка добавлена в версии 0.4.3.
CCleaner installing Google Crapware silently.
I have just updated the CCleaner free edition to 5.23.5808 an it installed unwanted software, Google chrome and the Google BHO for Explorer. It did this silently and there are no options to decline the offer or nor is it mentioned in the software agreement that I could see. Unchecky didn't pick it up and I uninstalled the crapware manually. Something you might want to check. I've been using the CCleanrer for a while now and found it to be good honest software. If this is the case with the unwanted software issue then its a pity.... might have to try something else. Come to rely on Unchecky to pick this sort of thing up. It's a good solid, effective and unobtrusive little app. keep up the great work and Thank you.
Mick

Thank you for the report.
Support for CCleaner will be added in the next version of Unchecky.


Установщик Skype для рабочего стола зависает при включенной службе Unchecky
ОС: Windows XP x32
Установщик скачан с skype.com. Unchecky исправно снимает галочки MSN и Yandex, но кнопка "Установить" не нажимается, процесс зависает.