Bugs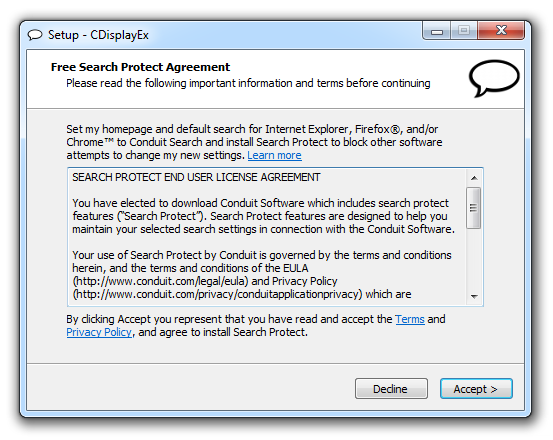 This screenshot comes from the installer (CDisplayExWin64.exe) for the 64-bit version of 
CDisplay Ex
, a popular viewer for computer comic-book archives.
Of note:
The installer is built with Inno Setup and is a 32-bit process.
This example installs Search Protect by Conduit, which ostensibly "saves your preferred browser's homepage and default search settings so that they can't be changed by software you download from the Internet" - but changes them itself upon installation (my homepage became Bing).
Only one EULA screen is shown in this installer, and at first glance appears to be the EULA for the CDisplay software itself. Clicking Decline proceeds with CDisplay installation without installing Search Protect.
The latest version of Unchecky did not display any warning when the Accept button shown in the screenshot was clicked.